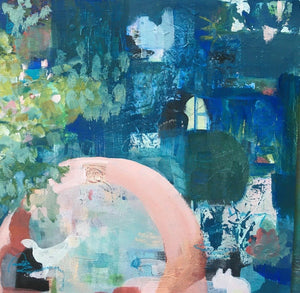 Acrylics, pencil and charcoal marks on 32x32 cm, (12,6x12,6 inches) 6 mm deep Wood Panel.
The painting is part of the Escape series I painted in 2020, to run away from the pandemic to my dreamy world.  
I love gardens and nature. A nice evergreen garden surrounds my apartment in Budapest and the forest is just on the other side of the street in Cracow. In Malaysia I lived next to the jungle. I love walking in the forest, it's recharging for me. When I feel unbalanced, I go to the forest and hug a tree asking it to give me its strength and reconnect me with the Earth. I always feel rejuvenated after my walk. So I painted this enchanted garden that has the healing power. Hope you'll feel it too.