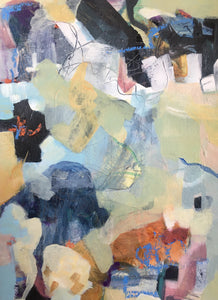 One of a kind abstract artwork on  400 g Acrylic Paper. 21 cm x 29 cm
Used medium: Acrylic, pencil marks, oil pastel. 
Unframed, shipped in a tube. 
This painting is part of the "Have Faith in Your Heart" series I painted keeping Faith and Hope in my mind. When you look at it, it's like there's a blue figure standing at the left bottom side of the painting.
This painting is about challenging tasks and the reminder that it's enough if we have enough strength just for today, then again for another day. One day at a time. We don't need to figure everything out and that's okay.