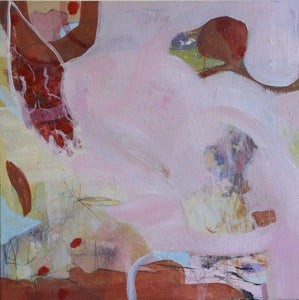 One of a kind abstract artwork by Beata Bosze
Medium: Acrylics, pencil marks, oil pastel
Size:  32x32 cm, 6 mm deep Wood Panel.
Frame: Ready to frame
Signature: Back and on the Certificate of Authenticity
Year: 2o21
Finish: Cold wax
Shipping: Cardboard
Delivery time: 3-5 weekdays in Europe and 5-14 weekdays WW depending on the custom formalities.
The painting is part of the Midsummer-night dream series I painted in 2021. I love this time of the year and this Shakespeare play too. It's romantic, light and humorous. Trying to reflect this mood on my wood boards and explore with some stories from my life.