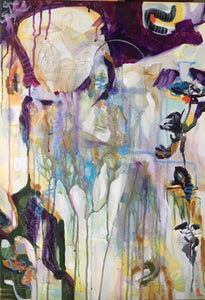 One of a kind abstract artwork. Acrylic, oil pastes on canvas. Varnished. Ready to hang. Sides are painted. 65x55x2 cm 26x22x0,8 inches 
This painting is about the lightness and delightful freedom mixed some hidden worries that might come, just trying to destroy the moments of stillness. But it is already blown away. 
Was exhibited in the Soul Paths Solo Show in Nagy Gyula Gallery in Varpalota, Hungary in 2019.