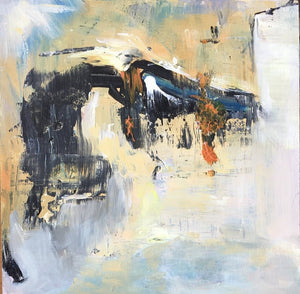 One of a kind abstract artwork on 6 mm wide wood panel. 32x32 cm (12,6x12,6 inches). Acrylic on wood panel. Varnished with gloss varnish. Need to be framed.
Wait for me is an intuitive painting I painted as part of a 3 painting series. In the silencing storm the bus arrives and a figure is running towards it saying that she is on her way, coming. (Connected paintings: The Storm (1) and Finding a way.(3)

Shipped from Krakow, Poland with Polish Post.