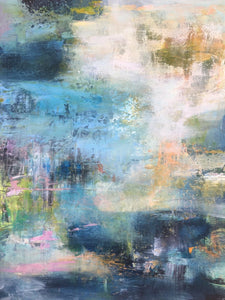 One of a kind abstract artwork.
Acrylic, soft pastels on 300gsm acrylic paper. 30x24 cm. Unframed.
This is an intuitive painting inspired our little Monet like pond on the Marczibanyi Square in Budapest. It's full of water lilies and goldfish with beautiful sunshine dancing on it.
It's one of my favourite places I have been visiting since my son was little. He used to drop his hat into the lake at winter just to make me angry when he was 2 years old. So many happy memories, aren't they?